I am seventy years of age, married, enjoyed an eclectic work life predominantly in the field of Human Services, presently working part time as a 'Couple Counsellor and Educator', and I have Parkinson's disease (PD)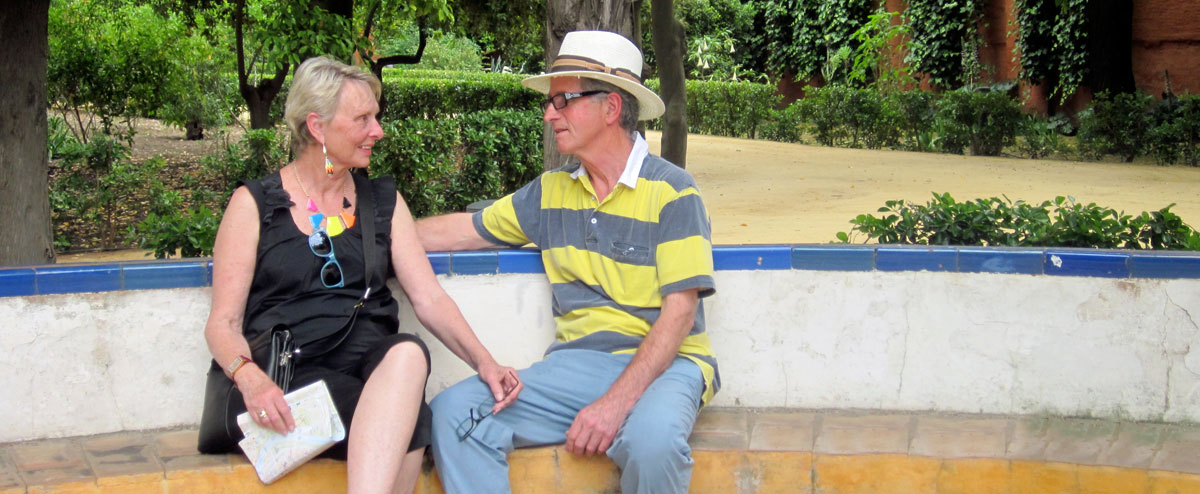 PD symptoms
I am in the early stages of PD (five years since diagnosis). My symptoms include a decline in muscle movement – my left arm only moves with consciousness; occasional muscle spasm and external trembling in my left arm and internal in my mouth; intermittent external trembling of my left arm; decreased facial expressions; a high production of phlegm; smaller hand writing; tiredness and deformed vocal chords. These symptoms have mostly remained unchanged since diagnosis except for the following: my vocal chords have been totally transformed through speech therapy; my writing is back to normal; and my left leg now moves unconsciously due to consistent walking where I am sure my brain has now accepted my leg's persistence.
PD medication
PD is due to the loss of dopamine in the brain. My current medication is Azilect (1mg daily) which makes more efficient use of my remaining dopamine, and Stalevo (3 tablets daily), which helps replace the missing dopamine.
PD opportunities
PD has focussed me like nothing else after my neurologist indicated that the quality of my mental and physical life will deteriorate slowly, but dramatically. While this prognosis is not always true, and while I am working towards the best outcome, I am nevertheless making decisions based on the worst possible outcome, which has led to the following positives in my life:
immediacy – higher concentration on the project at hand and people

physical – PD exercises, muscle toning, walking, stretching and diet

mental – writing, studying, singing, dancing, writing poetry and reading

spiritual – meditation and yoga

purpose – sharing useful insights with others living with PD and using neuroplasticity to make changes to lifelong inhibitions
A vital component to all the above, I have found, is in the mutual exchange of experiences so that knowledge can be shared, projects can be more fulfilling and relationships enriched.
Physically
I have a chronic back  condition which limits the range and intensity of my physical action, resulting in me sitting comfortably for only very short periods, and rendering me immobile following any awkward movements. I have had both hips replaced, bursitis, a cancerous prostate removed, abnormally low blood pressure and Parkinson's disease. Nearly everything I do, whether talking, walking, thinking, computing or relating, mostly gives me great satisfaction while also becoming a conscious exercise, and, even as I type this, I ensure that I use all my fingers, even those that don't want to go there.
Ongoing Interests
Being with my wife Corrie and sharing fun times, challenges, and good conversation with her and our friends

Traveling with Corrie, compiling slideshows of our travels with commentary and local music, enjoying paintings reminiscent of these special places, and sharing both with neighbours, friends and family

Staying in the Blue Mountains, where I garden, walk, read, write and spend time with friends

Keeping in touch with many extended family members

Reading – especially mysticism, Russian and English classics, the history of countries I have visited, and poetry – with a special love of great Persian poets such as Khayyam and Rumi, and the great Indian sage Yogananda

Listening to music and vocalists in all forms particularly Spanish guitar, Persian and Turkish spiritual music, classical and traditional music of Europe, eastern instruments and the ethereal flutes from tribal to classical forms

Watching the mesmerizing whirling Dervishes of Turkey with the haunting sounds of their unique string instruments and flute, the proud Spanish Flamenco dancers accompanied by the vibrant sounds of the guitar, and the exacting movements of the Indian Katak dancer mirrored closely by the intricate 'fingering' sounds of the tabla musician, all of which, when performed to perfection, touch on what the Spanish call – 'duende'

Creative writing, mainly of personal experiences – inspired by persons I admire, moved by emotional situations, and excited by 'duende' moments

Nordic walking – a special technique that utilizes the upper body as well as lower, especially useful for the prevention of the 'Parkinson's stoop'

Working with couples to come up with ordinary solutions to a variety of challenges that at times bring about extraordinary changes

Dancing and singing with people with PD

Exercising and associating with others who have PD
Recent activity
Completed a 100,000 word summary of a mystical interpretation of the New Testament and the Bhagavad Gita in 2013
Completed the 800 km 'Camino Frances' from the Pyrenees in France to Santiago de Compostella in Spain in 2014
Completed my book: "You're the Guy with Parkinson's" available in E book form on Amazon in 2015
Completed the  800km 'Chemin du Puy' from Le Puy en Velay to the Pyrenees in 2015
Written my experiences on the 'Chemin du Puy' in 2015
Present activity
Began a "fast walking program" in November 2015 with the aim of decreasing medication – Norman Doidge's book: "The Brain's Way of Healing"
Marketing my 'E book' – "You're the Guy with Parkinson's" on amazon.com
Writing a self help book for those with PD
Broadcasting on community radio station 2RPH
Couple counselling
Corresponding with friends made on our European walks
Studying 'brain neuroplasticity' beginning with Norman Doidge's books – "The Brain that Changes Itself" and "The Brain's Way of Healing"
Creating a site for those 'walking' to ease PD symptoms
Studying the effects of 'walking' on PD symptoms
Walking, singing, writing, poetry, dancing, yoga and PD specific exercises
Completed the 850km Via Francigena through Italy
Written my experiences on the 'Via Francigena in Italy
Learning to speak French
Future activity
Walking 800 kms from the Italian Alps to Rome with my wife Corrie in 2016
Continuing with walking, singing, writing, poetry, dancing and exercises
Compiling a range of short stories based on personal experiences
Writing a book of sonnets
Creating a site for those 'walking' to ease PD symptoms
Spiritually
I believe this world is too extraordinary for there not to be a 'Divine Being' behind it all. Through my last twenty five years of spiritual enquiry and eight years of intense meditation I am in no doubt of the existence of a much greater power than ourselves, and have never been more motivated towards the challenges and rewards of life, the curiosity of, and fascination with our immortality, where I believe there are countless pathways – the one I have chosen is Kriya Yoga.