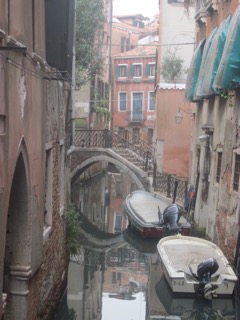 Is there anything like this nearly underwater city – its intricate canals of course, varying in size from 'Gondola width to a 'good hit of a tennis ball distance'? These are the life blood of Venice distributing all the necessary nutrients to every part of this vibrant body of land, it's inhabitants and its visitors. The people, no matter who – what age they are – what condition they are in, must walk, go by expensive water taxi or by bouncing trolleys or wheel chairs.
We arrived, very happy to still have our packs as it is quite tortuous taking wheelie bags over the cobbled streets and across many of its 300 bridges. The famous Venice marathon day was also on. We watched the contenders run over the grand canal on a makeshift bridge, through the outer streets and along canals with other makeshift bridges obscuring the beautiful stairway bridges across the waterways, and finally to run many times around San Marco's square.
Running however is not the norm for Venice. It is a walkers' paradise, and, we are walkers, so it works well for us. On a week day in late autumn even the main thoroughfares are quite walkable, and when we wanted time to ourselves, an isolated backstreet is often only a minute away. When we wanted to rest, a church would appear, a low wall on a canal, or an eating place which offered other crucial services.
Sestiere San Marco was our Venetian home. In this neighbourhood, the busiest part of the water filled island, we looked at the art in galleries, churches and shops; filled ourselves with the ever-changing images of the grand canal, paused for a while in the quiet nonchalant piazza that hosts the historically colourful and tragic Teatro Fenice, a perfect place for an operatic drama; listened to Vivaldi favourites in a small piazza dedicated to him; and on the way home in the evening, enjoyed the mini orchestral sounds floating across St Marks Square.
San Polo, an extension of San Marco, and just as hectic, has some special little hideaway shops and osterias. We noticed there were quieter side lanes that provided a much needed respite, with a chance to have a small 'direction chat' before we once again joined the human crush. While I say 'crush', this was much more of an issue on the Sunday we arrived.
Dorsoduro, still a crucial part of mysterious Venice, gave us glimpses of the real world with those temporary looking glass and aluminium buildings of the twentieth century. In a minute though we are back in the stunning past of ancient Venice, wandering through a much more slower moving section, probably a smarter place to do my fast walking, but it was a week day, so there were much less people to bump in the part I chose.
Santa Croce took us well away from the busyness above, into a more serene space with a village type atmosphere. Here there are no hundred seat restaurants or overflowing bars, but small intimate osterias that offer much the same as its bigger brothers. There is also more room for the buskers and watchers, and I always enjoy a lean against a 'busker watching wall' – paying a little for their often lowly rewarded occupation. We also enjoyed the park whose only inhabitants were 2 armed soldiers, of whom there are many with vehicles all over Italy.
The Castello was possibly the quietest place we visited. With a large, now unused giant ship building business (the arsenal) taking up so much of this sestiere, it is difficult to know where to go in its myriad of tiny lanes and tunnel ways. Often we would come down dead end lanes ending up in local communal courtyards, or on the edge of a canal. With time on our side we were never concerned about these and happy to go where Venice sent us.
Then there is the 500 year old Ghetto in Carnereggio. This sestiere has none of the vitality and polish of other parts of Venice but it has other things. Some of the buildings are much higher than the rest of Venice because the Jews were given little space so they had to go up and then divide rooms making them quite small. The streets here are getting busier, but there is still a quietness about them, and some of the rare trees of Venice are seen here shading still, the silent empty chairs. Down one of these dark streets I bought some naive artwork that quietly spoke to the both of us.
Nature's art awaits us once more as we head to Aosta, a little further north of where we started our walk nearly 2 months prior, to go for a stroll in the Aosta valley near the Great St Bernard Pass.