Florence has the look of a giant artist's gallery and studio: the street painters sitting quietly going about their work, the art shops silent as the artist waits for last minute purchases, the footpaths outside the famous galleries full of the only people not moving, the galleries filled with mostly curious visitors taking photos, the more serious casting a critical look, while others seemed to be digging deeper for hidden meanings.
Streets (like mostly everywhere in Italy) appear like never ending outside galleries with beautiful sculptures and artistic facades that visitors hurry past on their way to the real thing. Names of streets are reminders of the city's troubled past (burning of books and people) and worthy glories (the smuggling of Michelangelo's body back from Rome), with their famous identities carved into the ancient stone walls.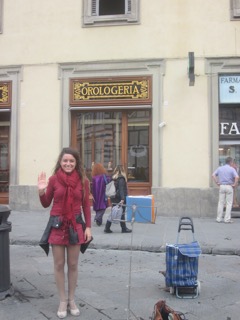 Unusually narrow pathways keep the brain active as a polite 'step off', could result in disaster, as pedestrian safety does not appear to be the driver or rider's first thought. However, these were ideal conditions to resume my neuroplastic fast walking technique, adding yet another layer of 'neuron growing' challenges.
Hotels and Albergos named after the more famous maestros, welcome the throngs with reprints of the artists originals in their hallways and sitting rooms, while bedrooms are often identified with one of the same. Restaurants decorate their eating places with photos of Florence's past, with no hint of the operatic dramas that so traumatised this free thinking city centuries before.
Then there are those special things that just happen they are exciting unheralded moments. Just before we left for Italy I took some singing lessons – how can you go to this country without holding a familiar hum at the back of your throat, in this case the famous 'con te partiro'. We weaved through the crowd to where Chiara was perfecting my (or Andrea Bocelli's, if you like) partially learnt Italian favourite. We stayed awhile listening eagerly and singing along (with my hands only) to her delightful rendition – along with the purchase of her precious CD.
And then there's Za Za's – this is more than just another trattoria. Its tiny and insignificant entrance contrasts with the very large and significant African who appears to be the adjudicator of reservations. It is the one eating place where the padrone di greets you outside the entrance. Once inside you are treated to a visual treat of colourful walls, eclectic paintings, statues, cave like rooms, open rooms, rooms downstairs, and more importantly for others, original tasty recipes and instant service from the delightfully gregarious young staff.
In Bosselinis, another trattoria, we had a very funny time with 2 lovely German women that led me into this short poem which I thought was the best way to describe it:
They pleaded for a table that wasn't really there.
The hunger that they had would drive them to despair,
So the waiter found a table, two chairs did he provide,
Then just about to sit, the boss did hurt his pride.
His words were very angry, but we did understand,
This foreign little table was not really planned,
Still standing there bemused and not sure what to do
The waiter said: "please sit, it's ok now you two".
They meekly took their seats in their squeez-ed* space
Then waited for the waiter of whom there was no trace,
Eventually they ordered – two seats came up near us
Then told to take their seats, they did so with no fuss.
One said, "I get dramatic, if my hunger's not appeased",
So Corrie gave our bread – we want to see them pleased;
They smiled at this small offer as their bread appeared
The waiter said don't steal, losing us, he feared.
Their salad came – so happy, but the oil it isn't there,
"Have ours", we said, "it's yours", we didn't really care.
We laughed at these exchanges, the 'primi' then arrived,
While service was bit lax, of fun we weren't deprived.
Just wait a while there's more, it's cheese that now they're after,
So Corrie gave her ours, we fell about with laughter
"We're leaving now" I said, "will you be okay"?
Their faces said it all – we made each other's day.
the ed is often pronounced as in, e.g., – 'fed'
Buon Appetito